The SCUBA Zone - West Coast Diving (2007 and onwards)
In 2006 we moved from Calgary to Vancouver Island. I did not do any diving in 2006, but starting in 2007 I again headed out diving.
You can now find my West Coast SCUBA diving logs and other information on my new site: 'ths scuba zone'. Click on the picture below or the link to go to the new site.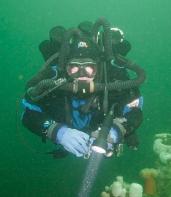 Richard Huntrods (a.k.a. 'sunnyboy')
Pictures & More (2002 - 2005)
Older Pictures (2001 - 2002)
In August 2002 I traveled to Montreal, where I got in some diving on the Richelieu River (3 wrecks) and the Kahnawake Reserve (flooded quarry). Using one of those disposable "underwater" Fuji cameras, I took some pictures. Most did not turn out (too dark in the river and no flash), but the camera did perform quite well - I had it as deep as 40 feet. Here are the best pictures, taken at the quarry.
At the time of these pictures I did not have an underwater camera, so here are some "land lubber" pictures of some great dive trips I've been on. I've also been given permission to show some spectacular underwater pictures.
wreck trip to Porpoise Bay, B.C. - February, 2001
tek trip to Porpoise Bay, B.C. - November, 2001
Arbor Lake Dive Map (2001)
This is a powerpoint poster (36" by 24") which shows a diver's map of Arbor Lake, Calgary Alberta. This map was produced by our Divemaster class in Spring, 2001 as part of our Divemaster requirements.